Meet Denny and Judi Jones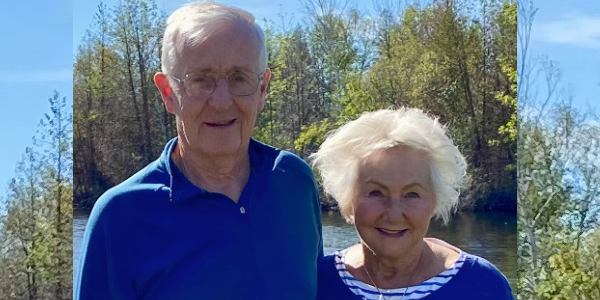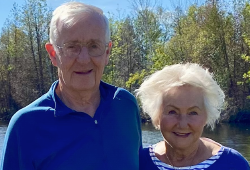 What inspires a couple to include St. Luke's in their estate plans? For Denny and Judi Jones, it is their desire to help ensure that future generations have a church where they feel challenged, enriched, and spiritually fulfilled-just as Denny and Judi have experienced in their 12 years at St. Luke's.
Judi Kerstetter,, the daughter of Swedish immigrants, grew up in Chicago and attended the Swedish Covenant Church (today known as the Evangelical Covenant Church). Denny grew up on a farm in Ohio and was active in the Christian and Missionary Alliance denomination. They met at Wheaton College in Wheaton, Illinois, where both were English literature majors. In spite of their different backgrounds they discovered they shared many of the same values and a friendship grew into love. They married shortly after graduating from college.
Both received National Institute of Mental Health Scholarships to pursue master's degrees in social work at Indiana University. Denny later received his MBA degree at Butler University as well. Thus began their careers to live out their faith by helping others.
Judi, with a master's in clinical social work, worked in public mental health settings and private practice for over 30 years-primarily counseling with adolescents, couples, and families. During her time at Community Hospital, she helped to design and implement an intensive outpatient program for adolescents-one of the first in the state. She also pursued her interest in art-both in creating her own art and as a docent for 25 years at the Indianapolis Museum of Art. Her love of art and design also centered on home collections of furniture/pottery-collected both stateside and abroad.
Denny worked at a mental health center in Indianapolis for ten years and then moved into administration. He became the first Executive Director of the State Association of Community Mental Health Centers and later the first nonmedical Commissioner of Mental Health for Indiana, reporting directly to the governor. He was recruited for a similar position in Austin, Texas where once again he was the first nonmedical Commissioner for the state. Based at the IU Department of Psychiatry, Denny spent the last 20 years of his career in managing the Department's Practice Plan, consulting with the state of Indiana, and serving as a Federal Court Monitor for three mental health-related class action lawsuits in Washington, D.C. and Chicago.
Their marriage was blessed with two daughters, Jorie and Heather. Early childhood memories centered around multiple family vacations to fun spots, e.g. Nantucket Island, Smokey Mountain National Park, Charleston/Kiawah Island, Santa Fe/Taos, Glacier National Park, and Vancouver Island. After their six years in Texas Judi and Denny were happy to move back to Indiana and closer to their now grown daughters. Jorie and her husband and two children live in Noblesville, Indiana and Heather and her husband and three children live in Libertyville, Illinois.
Now retired, Judi and Denny enjoy spending summers and holidays at their condo in Bridgman, Michigan with their extended family. Back home in Indianapolis, St. Luke's United Methodist Church remains a very important part of their lives. They had attended another United Methodist Church in the area for many years but were attracted to St. Luke's because of its progressive theology, its energy, and its ability to bring together a diverse group of people around a common vision. They were a part of Rob Fuquay's first new members class. "It was a joy to find a church that is scripturally based and committed to serving the community in which it lives," Denny said. "We feel challenged, enriched, and spiritually fulfilled at St. Luke's, which models what a church should be," Judi added.
In January 2022, Denny had open heart surgery. "We knew it was time to update our wills," he noted, "so we sat down and reviewed our values and determined where we wanted our assets to go when we no longer needed them. We wanted to remember our family, of course, but we also wanted to remember those charities that were important to us."
As Judi and Denny asked themselves which charities best reflected the values they shared, St. Luke's immediately popped up, "We wanted to put our resources in a Christian based organization which would pass on to future generations our commitment to inclusivity and to sharing Jesus' loving message to all people."
Thus, their wills leave 20% to St. Luke's endowment, with the request that the earnings be used for community outreach for the disadvantaged in Indianapolis, especially impoverished children and families, resettled immigrants, racial equity, and similar efforts.
Denny and Judi shared their plans with their daughters, who gave their blessing to how their estate will one day be divided. "It is a joy to know that our values will live on and help St. Luke's fulfill its mission for generations to come," they concluded.
St. Luke's is pleased to recognize Denny and Judi Jones as members of St. Luke's Legacy Society. If you would like more information on how you too can become a member of St. Luke's Legacy Society, contact David Heetland, Pastor of Planned Giving and Stewardship, at [email protected] or 317.399.6202.