Meet Debra and Jeff Peek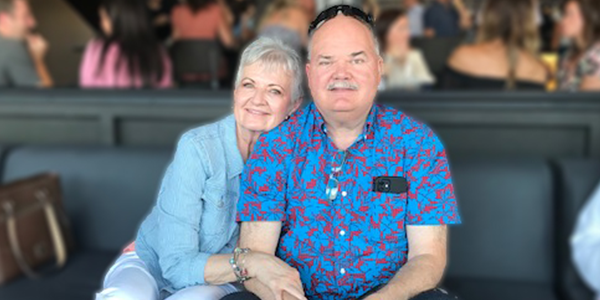 Both born in Indianapolis, Debra grew up in the Elkhart and Fort Wayne areas and moved to Speedway when in high school, and Jeff grew up in Broad Ripple and attended Jr and Sr High School in Lebanon, Indiana. They met as freshmen at Butler University where Jeff majored in accounting, and Debra majored in education.
When they decided to get married, they began looking for a church home and immediately fell in love with Carver McGriff and St. Luke's. That was 42 years ago. They were married in the church and have been active members ever since.
After college, Jeff passed the CPA exam his first semester of law school which he attended at night. By day, he worked for an accounting firm. After getting his law degree, Jeff joined a small law firm in Indianapolis, which has since grown into a large firm—Hall, Render, Killian, Heath & Lyman, P.C.—with offices in 10 states and clients in 44 states. The firm specializes in health law.
Meanwhile, Debra got her MS in education and taught school: emotionally handicapped middle schoolers, gifted middle school humanities, and gifted second graders. She took seven years from teaching to raise their own two children, Laura and Steven. She retired after 27 years in education. She then joined St. Luke's staff in 2014 as Administrative Assistant in New Here Ministry.
St. Luke's has played a vital role for the Peek family. Both of their children were baptized, confirmed, and married in the church and continue to be members. Debra's mother, Sharon Steele, is also a member and their granddaughter, Phoebe, will soon be baptized at St. Luke's, marking the fourth generation of the Peek family to call St. Luke's their church home.
Jeff and Debra, in turn, have generously shared their time and talents with St. Luke's. Jeff has been on the finance committee for 40 years and has been church treasurer for many. He has also served on the initial governing board and is a part of a men's spiritual group.
Debra has taught Sunday School and Vacation Bible School. She has also taken two Disciple Bible study classes, led some adult classes, and been involved in small groups. She has been a member of the choir for 17 years and has done volunteer work in worship and the arts. She is a Stephen Minister, a member of a handbell choir, and enjoys reading Scripture in worship from time to time.
Debra and Jeff especially appreciate the church's progressive stance on social justice issues and its involvement in the community. "We believe we are all God's children," Debra said, "and we are pleased that as a church we do what we say and live out our commitments." They also appreciate the church's strong music and Sunday School programs.
When asked what led them to include St. Luke's in their estate plans, Jeff responded, "It seemed obvious. It was a given, as it has been such a central part of our lives. We have been blessed with outstanding preachers and pastors and are grateful for the leadership of Carver McGriff, Kent Millard, and Rob Fuquay for the past 42 years." They want their estate gift to go to the General Endowment, where the earnings will be used each year wherever most needed. "We don't want to micromanage our estate gift," Jeff noted, "because we don't know what the needs will be in the future."
And what is their hope for the future of St. Luke's?
--That it will become more racially diverse.
--That it will continue to be a visible and viable presence for good in the community.
--That it will continue to change with the times to remain relevant.
Debra and Jeff are grateful that they found a church home 42 years ago which has served them so well. St. Luke's is likewise grateful that Debra and Jeff have so generously shared their time, their talents, their treasure, and their witness over the years—and that they have included a significant gift to St. Luke's in their estate plans so that it can continue to live out its mission to be an open community of Christians helping people find and give hope through Jesus Christ—regardless of their gender, race, ethnicity, sexual orientation, nationality, or socioeconomic background—for generations to come.
St. Luke's is pleased to recognize Debra and Jeff Peek as members of St. Luke's Legacy Society. If you would like more information on how you too can become a member of St. Luke's Legacy Society, contact David Heetland, pastor of planned giving and stewardship, at [email protected] or 317.399.6202.